ABCO Engineers is the best Crane Manufacturers in Bangalore. We at ABCO Engineers take the safety of our clients very seriously!
All our cranes like EOT Cranes, Gantry Cranes, etc., are designed and manufactured by considering all the safety parameters.
Industrial/Overhead cranes are the most neglected equipment in any manufacturing industry. Even though they are very critical equipment that affects the safety of our workforce, most of the people do not consider the safety aspect, they are only concerned about the least price and quotation which they tend to compare with that of others while buying the crane. They just go for the least price rather than buying a safer crane.
Industrial/ Overhead Cranes do most of the work in industrial and construction workspaces — literally. They're some of the most essential types of equipment found in any production facility, job site or logistics hub. Multiple industries calculate them to perform important tasks and keep businesses productive. As such, cranes become a fact of life for several workers.
Yet, even though they're a constant presence in the workplace, we may take them for granted, that doesn't mean we can ignore the dangers they pose. When operated with a focus on safety, Industrial/ Overhead Cranes are the safest of any other alternatives. When they're used carelessly, they can be a serious hazard to people and property. The majority of accidents in the workplace could have been prevented just by following a few important points. With that in mind, here are the top five crane safety tips to assist you to avoid disastrous incidents in your workplace.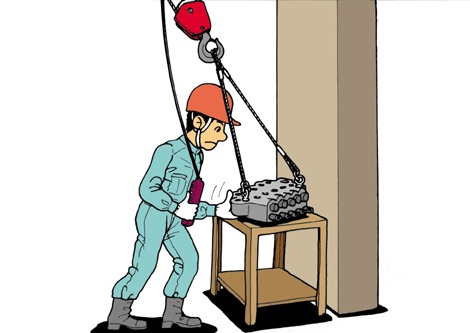 I. We at ABCO Engineers suggest our customers do an ideal run of the crane before using it every day. Later we advise our customers to test the brakes and other operations of crane with a test load before using the crane every day.
2. We preach what we practice! At our Cranes Manufacturing Company in Bangalore we never allow the lifted loads to move over any person. We make sure the lifted load is at a safer distance from the nearest person. We advise our customers to follow the same safety measure that we follow. By doing so, we eliminate any hazard that occurs to the human workforce.We always advise our customers to train their team on safety-related parameters in operating EOT Cranes frequently.
3. As per the Factories norm, the Overhead Cranes are supposed to be calibrated for the rated loads and certified by a Government approved Chartered Engineers once in a year. In addition to this, we also recommend that the customer opts for a complete health checkup of the crane from the Original Equipment Manufacturer.
4. EOT Cranes are designed with a 25% extra margin as a proof load. However, this doesn't mean that the crane can be used with a 25% extra load. Never lift loads more than the rated capacity of the crane. Always know the weight of the job that is being lifted from the EOT Crane. It is even safer to go with a Load Cell Unit along with a display unit. To install Load Cells and Display units to your existing crane, please contact our sales team.
5. Lastly, since EOT Cranes are placed on the top level of the factory, they usually get neglected when it comes to maintenance. Regular preventive maintenance of the crane is essential to keep the equipment running efficiently and to avoid any major accidents. ABCO Engineers also take up preventive maintenance to keep your cranes in good condition.
Being

Industrial crane manufacturers

from the past 22 years, we know that cranes can be so complicated, it's easy for certain procedures to be forgotten. That is why it is necessary to provide all employees with cards or checklists detailing safety protocols. This is imperative not only for crane operators but also for all other workers at the job site. Employees should be encouraged to review the safety cards before they begin every shift. These checklists should be posted in prominent locations around the job site, as well as provided to everyone there.