In the manufacturing and construction industries, overhead cranes lift and transport necessary materials for a wide range of applications. When installed and used properly, these systems facilitate safer, and more efficient operations. However, improper installation and usage can cause accidents that result in severe injury to life and limb.
The following analysis of each hazard provides a description, potential risks, reasons why accidents occur, and preventative measures to avoid them.
1. ELECTRICAL HAZARDS
About 50% of all overhead crane accidents that happen can be attributed to machinery coming into contact with a power source of some kind during operation. Typically, why this occurs is because, as a crane moves materials close to or beneath energized power lines, the hoist line or boom gets into contact with the electrical source.
Safety planning that is effective can be done before the cranes even get to the worksite. It is important to establish who will be in charge of any and all pre-job safety. Every danger zone should be clearly marked with barriers, fences, taping, etc.
In addition to this, make sure to ask electrical companies to de-energize or to ground any existing power lines when there are individuals working in close proximity to them. A final preventative measure is to make sure all ladders, tools, and other systems being used on the worksite aren't at all conducive.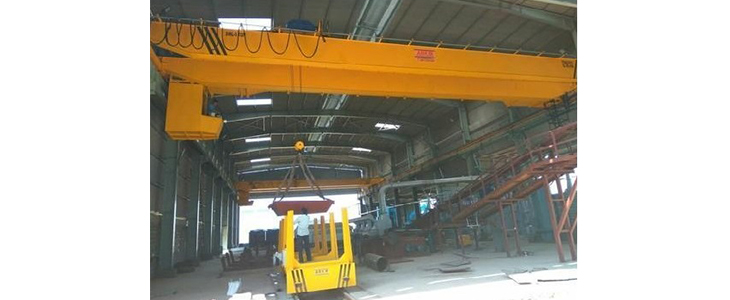 2. OVERLOADING
80% of all crane accidents and failures result from exceeding the rated capacity of the crane. Overloading most often occurs when poorly trained personnel are allowed to operate cranes. Swinging or sudden dropping of the load, using defective components, hoisting a load beyond capacity, dragging a load, and side-loading a boom can all cause overloading.
Overloading can cause significant damage to the crane, decreasing its structural integrity, and often leading to complete failure. Once these occur, crane operators and nearby personnel can be injured by falling or failing parts.
For crane operators, understanding these leading causes of overloading and how to avoid them necessitates comprehensive training. It's crucial that any crane operator know the weight of a load and the capacity of the crane. Formal training should ensure a working knowledge of crane load charts, and on-the-job training is a great preventative measure if the trainer is qualified.
3. MATERIALS FALLING
Falling materials is a major concern at any workplace or job site while using overhead cranes. Visual impairment, two-blocking, materials not properly secured, slipping, mechanical failure, or operator incompetency can all result in serious injuries or fatalities.
One way to reduce the risk of falling materials is to perform regular maintenance of hoists. Load testing maintenance ensures that you know how many pounds the hoist can handle, and it helps to maintain good working conditions. Employees working around overhead cranes should always wear proper head, foot, hand, and eye protection.
The crane operator and any workers below should be aware of his/her surroundings. Installing "Hoist Danger" signs around the work area will help to alert employees that a hoist is operating over their heads. Workers should be trained to stay clear of the hoist, and they should never walk beneath loads suspended in the air.
4. INSUFFICIENT INSPECTION AND MAINTENANCE
During use in operations, loading bearing equipment experiences damage which can affect performance. This damage can take the form of worn-out ropes, electrical wires, and structural components. As these systems play a critical role in lifting and transporting heavy materials, ensuring they are in proper working order through regular inspection, is essential to prevent any employee injuries and fatalities.
Crane inspectors should have the following:
• At least 2,000 hours of experience inspecting, maintenance, repairing, and testing cranes and hoist equipment
• Knowledge of safety and design standards; federal, state, and local codes; and safe operating practices
• Understanding of proper reporting and documentation protocols